Serralves Museum presents 31st Bienal's selected works
30.09.2015
Presented for the first time outside its country of origin, the 31st Bienal presents 28 solo artists and groups of artists who took part in the event, in the Museu de Arte Contemporânea de Serralves, Portugal, from October 1, 2015 to January 17, 2016. The Biennial's investigation into the revelatory potential of art is now reconfigured in function of the physical, social and cultural context of the city of Porto. The selected works of art – ranging from paintings and sculptures to videos and installations - provide an overview of how religion, history and other control systems affect everyday life and engender different ways of thinking about and imagining the world.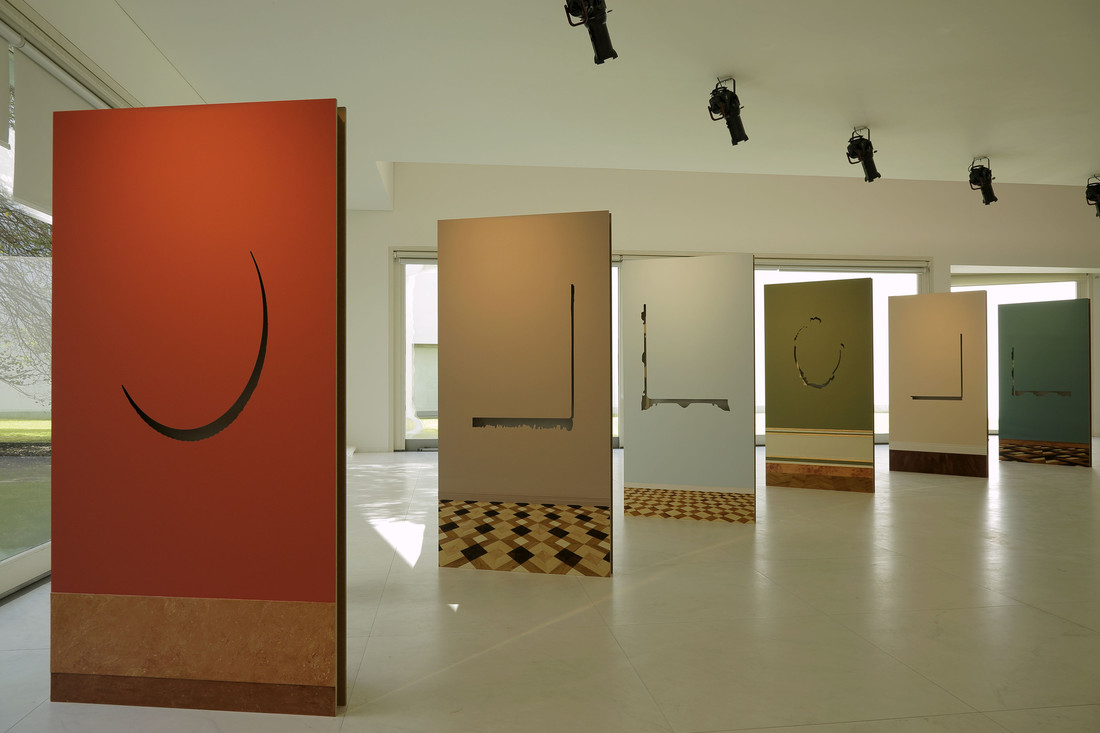 Letters to the reader (1864, 1877, 1916, 1923) by Walid Raad.© Filipe Braga / Fundação de Serralves, Porto.

The key works include the vigorous wall portraits by Éder Oliveira (Brazil); the video Ymá Nhandehetama by Armando Queiroz (Brazil), which talks about the invisible presence of Indians in the Amazon; the drawings of cities by the rivers by Anna Boghiguian (Egypt) and the film installation by Virgínia de Medeiros (Brazil) that addresses issues of gender, religious rituals and spirituality. The transparent mobile by Voluspa Jarpa (Chile) and the video work by Clara Ianni (Brazil) bring together the ghosts of the colonial past and the legacy of the dictatorship, which can be found throughout the exhibition, alongside the intensity of contemporary urban life. The exhibition will acquire a more fictional and metaphorical character with the installations by Walid Raad (Lebanon), Edward Krasiński (Poland), the paintings by Wilhelm Sasnal (Poland) and a film by Yael Bartana (Israel) which envisages the destruction of Solomon's Temple, in Sao Paulo. The exhibition includes also two collective projects created for the 31st Biennial: the installation Erring from God, by Etcétera... and León Ferrari (Argentina); Mujawara, by Grupo Contrafilé (Brazil), Sandi Hilal (Palestine) and Alessandro Petti (Italy) and solo projetcs by Agnieszka Piksa (Poland), Ana Lira (Brazil), Bruno Pacheco (Portugal), Chto Delat (Russia), Danica Dakić (Bosnia and Herzegovina), Gabriel Mascaro (Brazil), Graziela Kunsch and Lilian L'Abbate Kelian (Brazil), Johanna Calle (Colombia), Juan Carlos Romero (Argentina), Juan Pérez Agirregoikoa (Spain), Mark Lewis (Canada), Nilbar Güreş (Turkey), Qiu Zhijie (China) and Tony Chakar (Lebanon).
Besides the works from the Bienal, the presentation in Serralves includes a discussion programme to be held in the gallery and works by Cildo Meireles from the Serralves Collection. The curatorial selection for Serralves was overseen by Charles Esche, the artistic diretor of the 31st edition, together with Galit Eilat and Oren Sagiv.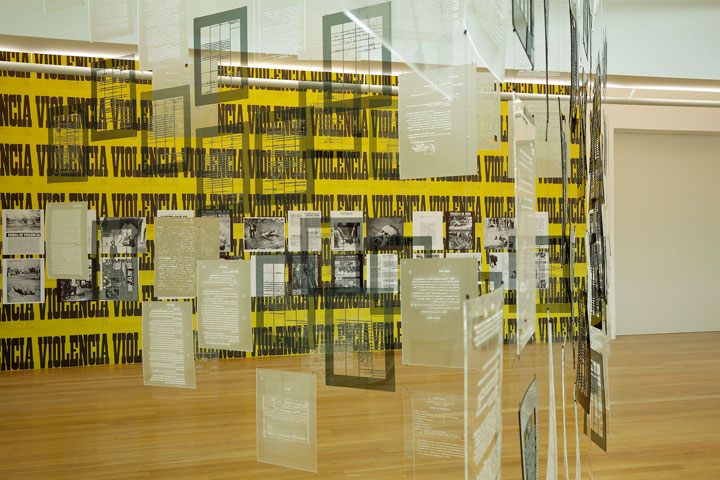 Learning Histories, by Voluspa Jarpa; Violence, by Juan Carlos Romero in Serralves. ©Filipe Braga / Fundação de Serralves, Porto.


Public programme

The exhibition will be complemented by a public programme developed by the Bienal's team of curators, in conjunction with Serralves Museum's Educational Service. This programme will span three fundamental moments and is based on extensive research carried out by the Biennial's curators in Porto and Lisbon, where they met with young artists, activists and researchers, and visited independent exhibition spaces, universities and art cooperatives.

The first moment - on the day of the inauguration - will foster an encounter between artists, critics and curators to talk about the purpose of the Bienal de São Paulo as an artistic project. In addition, during the first weekend after the inauguration, there will be a roundtable dedicated to the theme "A School beneath the Tree - Education, between Imagination and Activism", in which educators, artists and activists will examine the social and community potential of educational processes.

In November, the Museum will host the symposium "Reverse Colonialism" which will focus on the relationship between Portugal and its former colonies and the contemporary artistic interpretation of different approaches to colonial histories, in terms of artistic production and institutional development.

In December, the symposium "Right to the City - Criminalization of the Poor" will examine the possibility of citizenship in a situation of persistent poverty.

Throughout the exhibition, the regular programme of guided tours and workshops of the Serralves Museum of Contemporary Art will run in parallel to these key moments - providing constant stimulation of the event as an area for meeting and discussion.

 

31ª Bienal de São Paulo - Selected works
October 1, 2015 to January 17, 2016
Museu de Arte Contemporânea de Serralves - Porto/Portugal
Rua D. João de Castro, 210 - 4150-417, Porto, Portugal
tue-fri: 10am-5pm; sat-sun: 10am-7pm
www.serralves.pt
T: +351 226156500